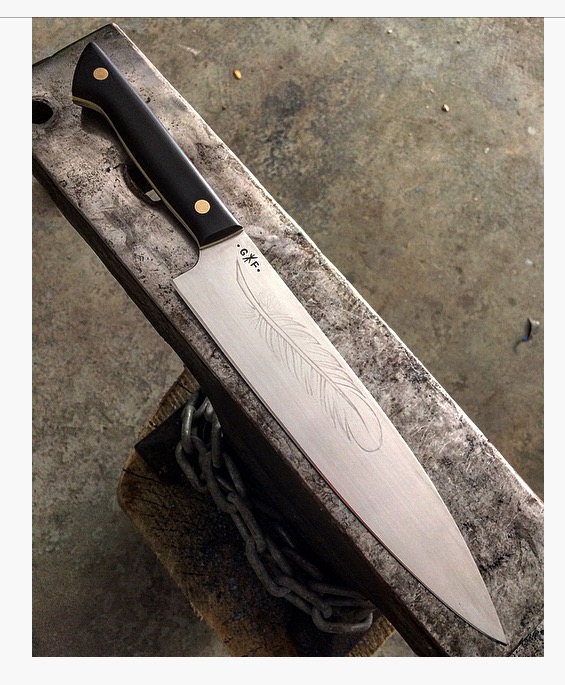 Limited Editions
sold out
"The Quest" - Chef Marc Forgione
from Chef Forgione:
When I first walked into the office, I had no plan at all.
I think somebody said something like "make the knife you". That in itself was a deep thing to think about. It turned out I was preparing for my 4th vision quest (which is what I committed to 4yrs ago). I began to think of who I was then and who I am now and what I've learned. I tend to keep this part of my life from the public eye but there is something that is telling me that it might be time to share.
The four colors represent the 4 directions. East (yellow) south (white) west (black) north (red). Each direction represents something different in our lives. For example: spring, summer, autumn, winter. In the morning I pray to the directions and give thanks to each one for their respective gifts and qualities.
The rattlesnake which represents change and shedding fears and inhibitions. Historically, serpents and snakes represent fertility or a creative life force. As snakes shed their skin through sloughing, they are symbols of rebirth, transformation, immortality, and healing. The ouroboros is a symbol of eternity and continual renewal of life"
On our way to the second quest in New Mexico, I was driving and came up fast on the biggest snake I have ever seen in the wild. I could move out of the way and hit it. We went back and finished the job and decided out of respect for its life and sacrifice that we would eat it in ceremony (made tacos, they were sick!). We treated the skin and everyone on that quest has a piece of it.
Feathers have been following me ever since I started learning on the red road. I see them everywhere and have too many stories about them to write. I've been told that it's the spirit reminding me to stay on the path. (Which is tough in this world).
from Geoff:
I collaborated with Chef Forgione to create a beautiful and versatile chef knife that captures who he is and embodies his cuisine. I'm very proud of the sincere design, and to partner with an extraordinary talent and friend like Patrick Conlon it's a dream come true
The blade is AEBL Stainless steel which has toughness and excellent edge retention. It was originally made for razor blades 9.5". 15" OA
It has a 1.875" heel
The handle is comfortable with 5.5" length and .626" thick.
The handle has Rattlesnake filework in between black g10 with red, yellow, white liners & brass hardware.
Each piece is individually engraved with a Hawk feather by Artist Patrick Conlon, owner of Speakeasy Tattoo in Peekskill, NY. and comes in a black Kydex sheath with a small signed watercolor of the knife's design.
20% of the proceeds from the sale of this knife are going to charities involved with Hurricane Relief.
**All pieces will be built to order at the completion of the sale of the edition. Sales will include of photo series of the knives during the build, with the what, why's and when's of the knife making process. Please expect delivery between 6-8 weeks**