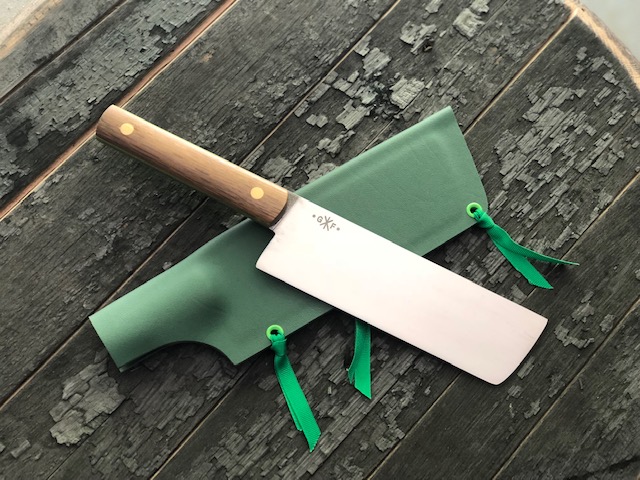 Limited Editions
sold out
Linton Hopkins Limited Edition Vegetable Chopper
Chef Linton Hopkins of Resurgens Hospitality wrote into our website after seeing us in a magazine just curious about what we did and we jumped at the opportunity to do a limited edition collaboration with him.
He wanted an usuba style knife with a thing geometry to not disturb the cell structure of vegetables. He also wanted it to be a full tang knife, but with a hidden tang look (which allows us to still have our signature file work). We went back and forth on the design and then delivered the prototype to him at his restaurant in Atlanta. After a few minutes sizing it up he disappeared into the kitchen to test it out. A few more agonizing minutes later he returned with some paper thin slices of zucchini and a smile and we knew we were in business!
And as a huge special bonus, he got us some Pappy Van Winkle barrel wood to make the handles out of. That's that charred background you see on the pictures of the prototype. We are milling it down and 'stabilizing' (a process of impregnating it with resin) it to make it exceptionally durable. We finish the handle with a nice zip of green liner to make a high performance vegetable chopper. No ratatouille will be safe.
These blades are 13" OAL (over all length) with an 8" blade made out of 3/32" 440c stainless steel for easy care. Each one will be numbered and etched with both Chef Linton's signature and Geoff's touch mark. They also come with a small water colored pieces of original art (in the design of the knife) signed by both Linton and Geoff.
from Chef Hopkins:
"I am super proud and excited about this and hope everyone else is to. Having used the first prototype this past few months, I can tell you that this is an exquisite knife, razor sharp, keeps an edge, hones well and fits great into my grip; a true pleasure to use and has quickly become my go-to blade for all vegetable work, though I have to admit using it for a whole host of items; it is quite versatile and can perform all the functions of a mini cleaver."
please note: THESE KNIVES ARE NOT MADE YET. First we sell them, then we order all of the materials and get to work making the limited edition. At each step of the process you will receive photo and/or video updates of the build, as Geoff describes the what's, why's, and when's of the knife making process specific to these blades. Please expect 6 months to receive you knife from payment to delivery.
10% of the proceeds of the sale of this knife will be donated to support the Southern Foodways Alliance.